For the past year as we have watched the Eurozone extend and pretend, deny and hope, in round after round of unrealistic promises and projections, I have been thinking we would wake up one morning to news that European politics, banks and markets were imploding. Today seems to be the day. As North American markets are closed for the last long weekend of summer, Europe and Asia are a sea of red with the US dollar, bonds, and gold bullion getting the relative "safe haven" bid.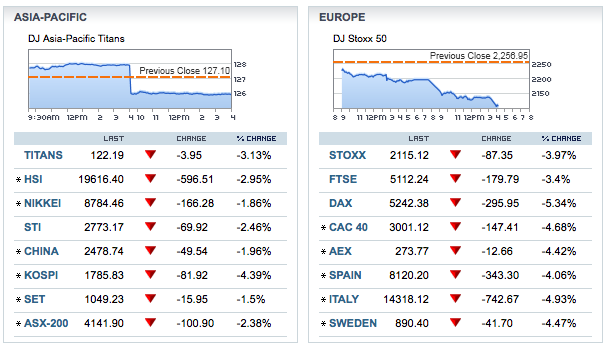 As we are now in the midst of the third cyclical bear market since this secular bear began in 2000, I cannot help but feel sorry for all the people married to the 'long always' mantra, managers and advisors.
I think about the handfuls of clients who left our firm in the past few years because they were seduced by the promise and hope of bigger gains elsewhere. It is a painful reality that in managing risk properly, in looking out for our clients' best interests ahead of all other agendas, we must take people out of harm's way at certain points in these cycles and each time we do, there are some who chose to run back into the burning building led by others who promise them that it is warm.
My great hope is that each loss experience offers the opportunity for change, learning and wisdom. In this way, experiences of loss can benefit us a lifetime.
"It's hard to see any reason, any long list, or any convincing list of reasons to be long of equities through this turmoil," Nick Parsons, head of strategy for National Australia Bank, tells CNBC in this next clip. And apparently he is "not in the business of clutching at straws." This is good…