For all those commentators who dive under the warm blanket of "decoupling" and "divergence" as reasons to keep hoping that stocks can do well in some countries while imploding in others.  Here are a couple of charts that rip off the covers to leave "long-always" thoughts naked and exposed to the cold dawn of day.
This one shows the nearly perfect correlation between the US Purchasing Managers Index (economic strength) and those of the EU, UK and China since 2006.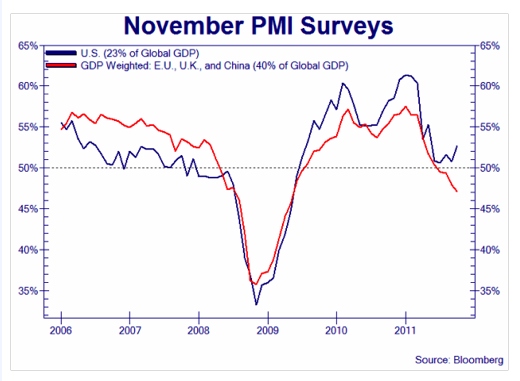 This one shows the unfortunate truth that year to date, the higher growth economies of Brazil, Russia, India and China (BRIC) have all suffered greater losses in their stock markets than the slow growth US and even the no growth Eurozone.
I understand that this reality flies in the face of the investment world's main business model–that we never have to sell or wait in cash because there is always a bull market somewhere.  But Dude, that model is killing your clients.  Facts must be faced.