Here is a helpful big picture view of the S&P 500 since 1997 when animal spirits and unfettered leverage went system-wide ramping into the tech bubble, the credit bubble and in the past three years, the moral hazard bubble.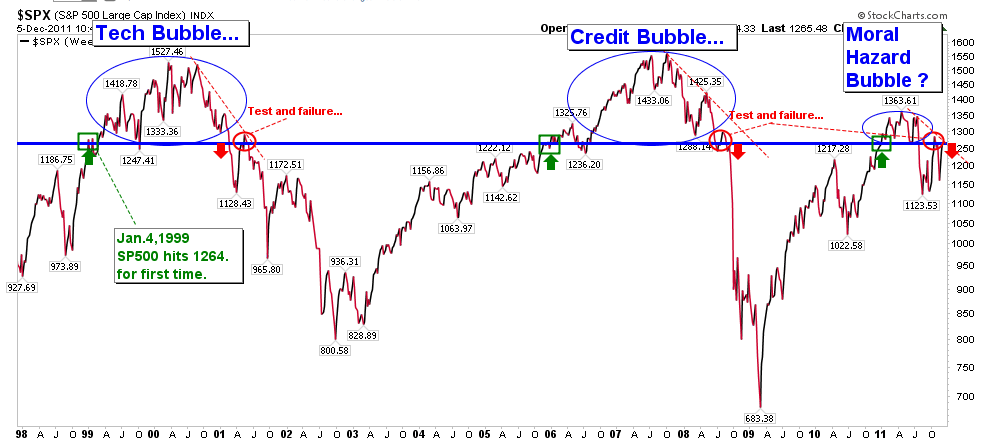 Source: Cory Venable, CMT, Venable Park Investment Counsel Inc.
I am presently reading an excellent and entertaining book on all of this that I highly recommend to everyone who has, or plans to have, some wealth amassed for the future. It is called The High-Beta Rich, How the manic wealthy will take us to the next boom, bubble and bust, by New York Times bestselling author Robert Frank.
Frank spent two years tracking some 200 families of America's noveau riche who made millions and billions in the bubbles outlined in the chart above. The trouble is that 'quick-come on big leverage' has meant 'quick-go in spectacular collapses' in many cases. The real life stories are fascinating (albeit common).
The broader thesis of the book is how our economy has become more vulnerable and volatile as wealth, and frequently mismanaged, fleeting wealth, has pooled into a few and away from average households. One of my favourite lines from the book comes when Frank is telling the story of two tough and scramble New Jersey brothers who grew up on the cargo docks and made themselves billionaires by building up the family docking business, here is Frank:
"Even the toughest dock workers in New Jersey, however, couldn't prepare them for the wealth managers of Wall Street and the hundreds of millions of dollars they lost in just a few months."
Listen to this interview clip for more.