As mentioned in an earlier post, Nassim Taleb's excellent article The Black Swan of Cairo offers important insight on why repeated efforts to intervene and prop up asset markets only makes our financial system more volatile, dangerous and prone to increasingly severe crisis.  It's kind of like repeatedly acting to save our kids from all their bad decisions and consequences–they never learn good lessons and habits and eventually are likely to end up in a complete disaster.
We have seen this all over and most recently in Europe where central bank efforts to underwrite insolvent governments, their debts and banks have bought only fleeting respite to be followed by violently surging interest rates. This chart of the US 10 year treasury yield underlines a similar point where repeated QE efforts from the Fed, ostensibly to bring down borrowing costs, have in fact resulted in the opposite effect bringing a break out to higher yields each time. We the people must get the talking stick back off of bankers and bought politicians if we are to make any sustainable progress out of the current crisis.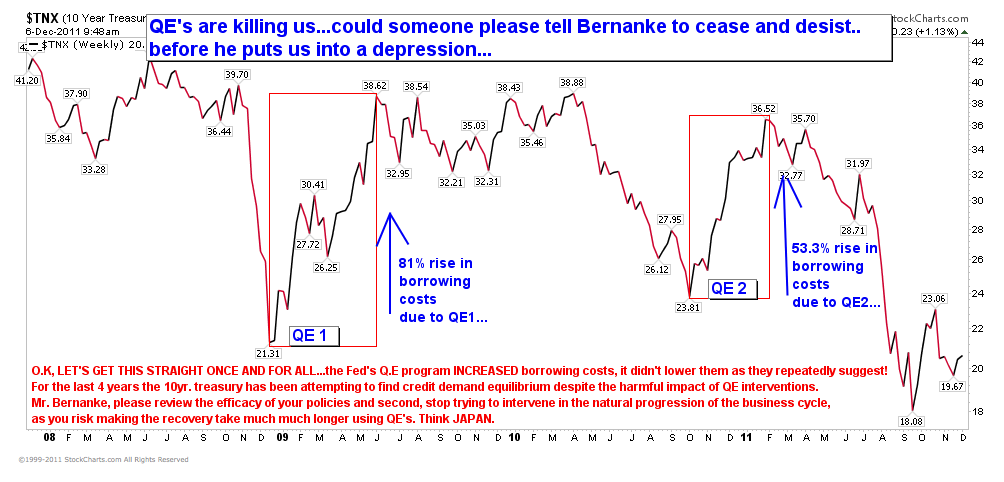 Click here for a larger version of the chart. Source Cory Venable, CMT, Venable Park Investment Counsel Inc.