I have done 9 media interviews in the past 5 days alone, so I know that the bear market is finally starting to grab the angst of the populace. The advising community is still wildly oblivious it seems, with lots of happy talk about "don't panic, don't sell, sit tight…this is a buying opportunity." Same old useless bunk. Here is the question for you: if your advisor never told you to sell and raise cash at any point in the last year or so, how the bleep bleep are you supposed to be snapping up buying opportunities?
My thought is that there may be quite a bit further to go here before the buying opps get really valuable. And it could take a few more weeks or months before that happens, with lots of noisy up and down days in between. We likely have a good deal more disappointment to get priced into asset values here. The number one job of capital today is to get through this bear market liquid, safe and with as few losses (even some gains) as possible. Then it will get really exciting for those who are prepared.
Monthly charts are best for cutting out short-term noise, and this one of the XIU (investable version of the TSX 60) paints a good picture of where we have been, where we are now, and where we may bottom in the weeks ahead. Each time the price has breached the orange circles below (as it has done year to date again) the Canadian stock market (and major global markets) have retraced 50% from their peak to re-test long-term secular support. That would be about 25% further down from today's levels. Stay awake and stay tuned.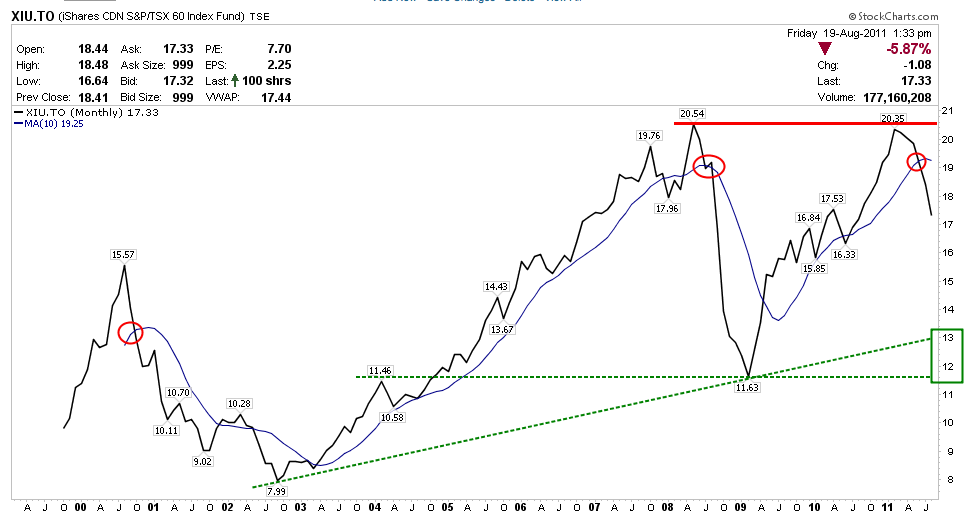 Source:  Market Technician, Cory Venable. VPIC